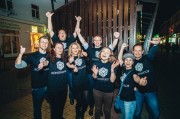 Redwood city, CA, March 4, 2016 (Newswire.com) - ​In creative environment www.konstruktor.com an international competition began to identify the best start-ups. Winners will receive an investment in a project in the amount of $30,000, $10,000 and $5,000 for 1st, 2nd, and 3rd places respectively. The winners will be chosen by the team of experts at creative environment Konstruktor, together with the competitions partner - venture fund Second Working District.
The competition is open to all projects, regardless of the stage of its development- it could be just an idea or a finished product. The projects can be created by beginners, and experienced teams, who can already be proud of their achievements.
By taking part in the Konstruktor Start competition, you can meet like- minded people and find help in the realization of your plans. To participate in the competition you can register at www.konstruktor.com, after, and then you need to create and develop your project to an appropriate level of opportunities for investment: form a team, carry out projects, engage in the promotion on our website, including using unique writing publications about your activity.
By participating in the competition, you can get an estimate of your business idea and attract investors, mentors and partners to implement your ideas. Several factors will be considered for selection of the winners:
novelty of the idea
potential growth

manufacturability

presence of a business model
The contest will be held during this year (2016) up until December 20, 2016. The winners will be announced on January 20, 2017. The best projects will receive an investment from Venture Fund SecondWorkingDistrict, founded in 1992 by entrepreneur Vladislav Krishtop.
Information reference
Vladislav Krishtop is the founder of an investment company Second Working District, a charity fund Krishtop Foundation, and a creator of the creative environment www.konstruktor.com. According to experts Vladislav Krishtop's capital is worth more than $2 billion, making him one of the youngest billionaires in the world. Vladislav Krishtop was born in Uralsk, Kazakhstan. In 2005, he received an MBA from ANE. In 2014, he studied at Stanford University (business program).
Contact information
For more information you can contact Konstruktor Inc. press release officewww.konstruktor.com
Official website of the investment company SecondWorkingDistrict: www.secondworkingdistrict.com
Share: